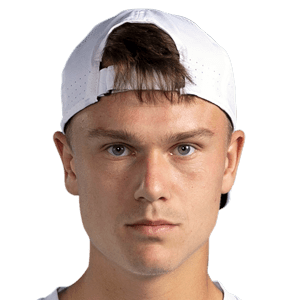 The Dane has qualified for the first time in 2021 for the Intesa Sanpaolo Next Gen ATP Finals.
Birthplace
Gentofte, Denmark
Residence
Charlottenlund, Denmark
Holger Vitus Nodskov Rune, who started the year at No. 473 in the FedEx ATP Rankings, rose to a career-high No. 118 on 1 November 2021.
Rune became the youngest ATP Tour quarter-finalist since 2014 in March at the Chile Dove Men+Care Open in Santiago, where as a 17-year-old he advanced to the last eight as a qualifier. The Danish star, who also made the last eight at the Moselle Open in Metz, became the first Dane to reach an ATP Tour quarter-final since Kristian Pless in 2006 (Newport). He also captured four ATP Challenger Tour titles at Biella 7 (d. Trungelliti), San Marino (d. Luz), Verona (d. Serdarusic) and Bergamo (d. Ilkel).
Rune Statistics
Event Best Results
Round Robin 2021
Career Indoor Record
7 - 4
Year To Date Record
7 - 13
Year To Date Prize Money
$362,172