02:30 AM GMT May 16, 2017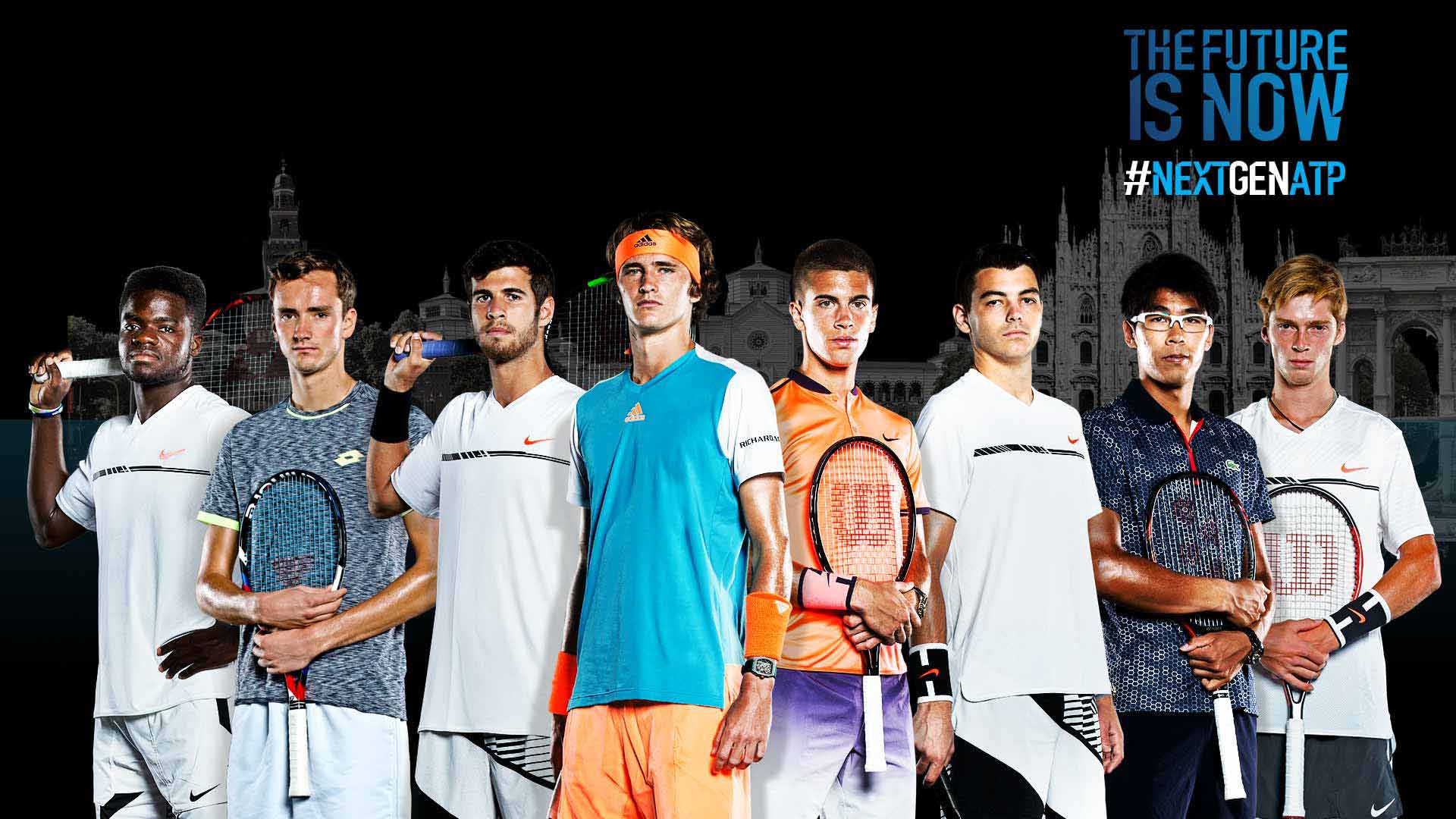 Approaching the mid-point of the 2017 ATP World Tour season, the Race To Milan is taking shape. With the top seven finishers in the Race (plus one wild card) earning a place at the inaugural Next Gen ATP Finals, several players have already staked strong claims to reach the 21-and-under showcase.
BUY TICKETS TO THE NEXT GEN ATP FINALS
The runaway leader in the Race as of mid-May is 6' 6" German star Alexander Zverev, 20, a winner of two titles already this year in Munich and Montpellier. Zverev has had such an outstanding start to the season that he is also in contention to qualify for the eight-man ATP Finals in London. 'Sascha' is 12th in the Emirates ATP Race To London, just 180 points behind eighth-placed Jo-Wilfried Tsonga. For Zverev, tennis is a family affair. He is coached by his father, Alexander Sr., and his elder brother, Mischa, is also a Top 40 ATP World Tour player.
In second place in the Emirates ATP Race To Milan is Borna Coric. The 20-year-old Croatian won his first title in Marrakech last month when he saved five match points in the final against tough German veteran Philipp Kohlschreiber. A big fan of boxing legend Mike Tyson, Coric also strengthened his claim to a Milan berth last week at the ATP World Tour Masters 1000 event in Madrid, where he reached the quarter-finals as a lucky loser.
Just one month ago, American Frances Tiafoe was 11th in the Race. But after winning ATP Challenger titles in Sarasota, Florida, and Aix en Provence, France, in his past two outings, the 19-year-old has surged to third. Tiafoe began playing tennis at three. His father, Frances Sr., an immigrant from Sierra Leone, was the Head of Maintenance at the Junior Tennis Champions Center in College Park, Maryland, and he taught Frances and his twin brother Franklin how to play.
South Korea's Hyeon Chung, who picked up tennis as a kid to improve his eyesight, is the highest-placed Asian player in the Race in fourth position. The 20-year-old recently laid down a Milan marker with a statement win over Alexander Zverev in Barcelona en route to the quarter-finals, where he pushed clay king Rafael Nadal to a first-set tie-break before falling 7-6, 6-2. Chung backed up the following week by reaching the Munich semi-finals.
In fifth place is American Ernesto Escobedo, who grew up playing tennis on public courts in Los Angeles, taught by his father, Ernesto Sr., who himself was mentored by his father in a backyard in Mexico. Escobedo, who at 14 turned down an offer to move to a Florida tennis academy to stay at the modest family home, began the clay-court season with a strong run to the semi-finals in Houston, where he defeated World No. 23 and fellow American John Isner.
Russian Daniil Medvedev and countryman Karen Khachanov are sixth and seventh in the Race respectively. Medvedev, who speaks Russian, English and French, reached his first ATP World Tour final in Chennai in the first week of the season. At 6' 6" Khachanov is a friendly and gentle giant off the court, but on court he is a powerhouse capable of dictating matches. He enjoyed a statement win over Top 10 player David Goffin late last month in Barcelona.
Pressing Khachanov for the all-important seventh spot are Norway's Casper Ruud, American Jared Donaldson, Frenchman Quentin Halys and Russian Andrey Rublev, who are separated by less than 20 points as of May 15.
Ruud, 18, who had a stunning run to the semi-finals of the ATP World Tour 500 event in Rio de Janeiro in February, is the son of former Top 40 player Christian Ruud. Donaldson, who sleeps in a high-altitude tent replicating atmospheric conditions at 10,000 feet, won through qualifying in Miami in March to reach the fourth round of the ATP World Tour Masters 1000 event.
Halys, 20, has put himself into Milan contention by grinding away on the ATP Challenger Tour, reaching five semi-finals (and two finals) this year. Rublev, 19, reached the final of the Rennes Challenger and the semi-finals of the Quimper and $150,000 Dallas Challenger (from qualifying).
Tags:
Borna Coric

,

Alexander Zverev

,

Ernesto Escobedo

,

Daniil Medvedev

,

Karen Khachanov

,

Frances Tiafoe

,

Hyeon Chung

,

Casper Ruud

,