03:15 PM GMT October 14, 2019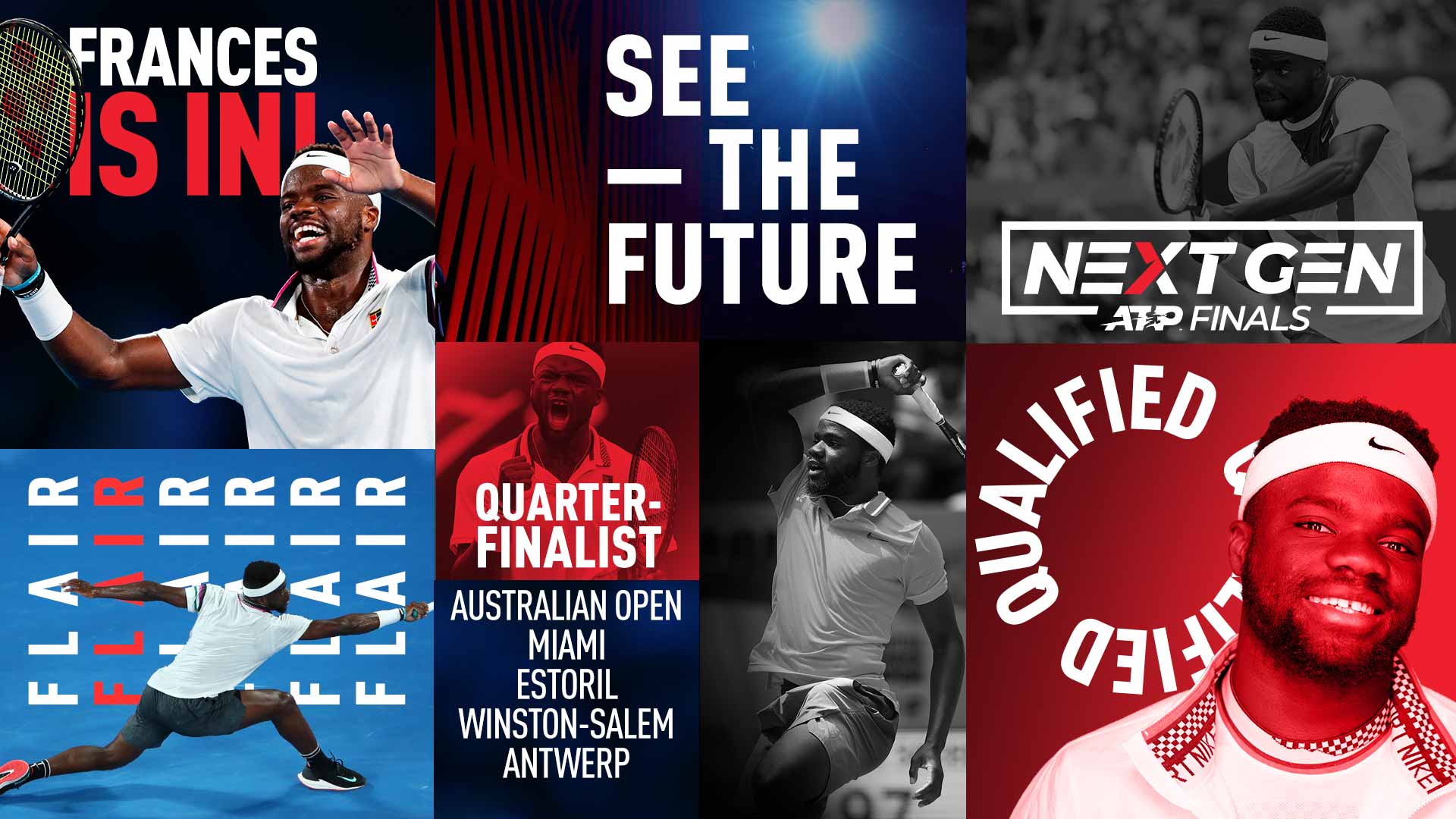 Frances Tiafoe is returning to Milan. The 21-year-old American has qualified for the Next Gen ATP Finals for the second consecutive year.
Here are five things to know about Tiafoe before the Next Gen ATP Finals, which will be held 5-9 November.
1. He has an unconventional tennis story.
Tiafoe did not grow up the son a former major tennis champion or destined for ATP Tour greatness. His father, Frances Sr., was the Head of Maintenance at the Junior Tennis Champions Center in College Park, Maryland, USA, and Frances and his twin brother, Franklin, began to play there against a wall at the age of three.
Some nights, all three of them would sleep at the tennis center. Tiafoe's mother, Alphina, and Frances Sr. moved from Sierra Leone to the U.S. in 1996.
"I obviously wasn't a normal tennis story," Tiafoe said. "The beginning of my career, I was playing for them, trying to do everything for my family. Obviously now I put them in a great place. Now I'm trying to do it for me."
Watch From 2017 Uncovered: Tiafoe Revisits College Park Roots
2. He enjoyed a breakout run in Australia.
Tiafoe was 0-1 on the season coming into the Australian Open and had never made it past the third round of a Grand Slam. Yet the American won four matches, including against No. 6 Kevin Anderson, No. 35 Andreas Seppi and No. 21 Grigor Dimitrov, to make his first major quarter-final (l. to Nadal).
"[The Australian Open] was an absolute movie for me. Still in disbelief. I [want to] thank everyone who pushed me to make this run, y'all know who you are. I couldn't be more grateful," Tiafoe said.
3. He knocked out a Spanish legend in Miami.
David Ferrer retired in May after losing to Alexander Zverev at the Mutua Madrid Open. Along the way, though, Ferrer said goodbye to a few select tournaments, including the Miami Open presented by Itau.
In March, Tiafoe, en route to his first ATP Masters 1000 quarter-final, beat Ferrer in the Spaniard's last match in South Florida. The American also beat 2017 Nitto ATP Finals runner-up David Goffin before falling to fellow Milan qualifier Denis Shapovalov in the quarter-finals.
"Absolute war. I [have nothing] but respect for this guy, [David Ferrer]. You will be missed," Tiafoe said.
4. He's a massive fan of NBA basketball star LeBron James.
Tiafoe follows the NBA closely, and while he favours professional sports teams from Washington, D.C., including the NBA's Washington Wizards, Tiafoe is partial to NBA superstar LeBron James. In Melbourne and Miami, Tiafoe emulated James' celebrations.
"He's a hero of everybody, I hope. We're talking about LeBron James. I'm a massive basketball fan. I can talk about it for ages," Tiafoe said.
Unforgettable ?￰゚マ﾿?￰゚マ﾿ https://t.co/UBn6qsmzmh

— Frances Tiafoe (@FTiafoe) February 3, 2019
What better way for American @FTiafoe to celebrate his first Grand Slam round of 16?

Channel @KingJames, of course. pic.twitter.com/pgwmcPWBIV

— ESPN (@espn) January 18, 2019
?￰゚ヌᄌ @FTiafoe celebrates his first Masters 1000 QF with the @KingJames silencer in Miami ?#MiamiOpen pic.twitter.com/eJtmzFIvzZ

— Tennis TV (@TennisTV) March 27, 2019
5. He's coming back to Milan.
Tiafoe represented the #NextGenATP in Milan last year, falling just short of the semi-finals. He went 1-2, beating Poland's Hubert Hurkacz but losing to eventual champion Stefanos Tsitsipas and Spain's Jaume Munar. Every year of the Next Gen ATP Finals has had American representation: 2017, Jared Donaldson and 2018, Taylor Fritz and Tiafoe.
[ALSO LIKE]