10:58 PM GMT November 07, 2019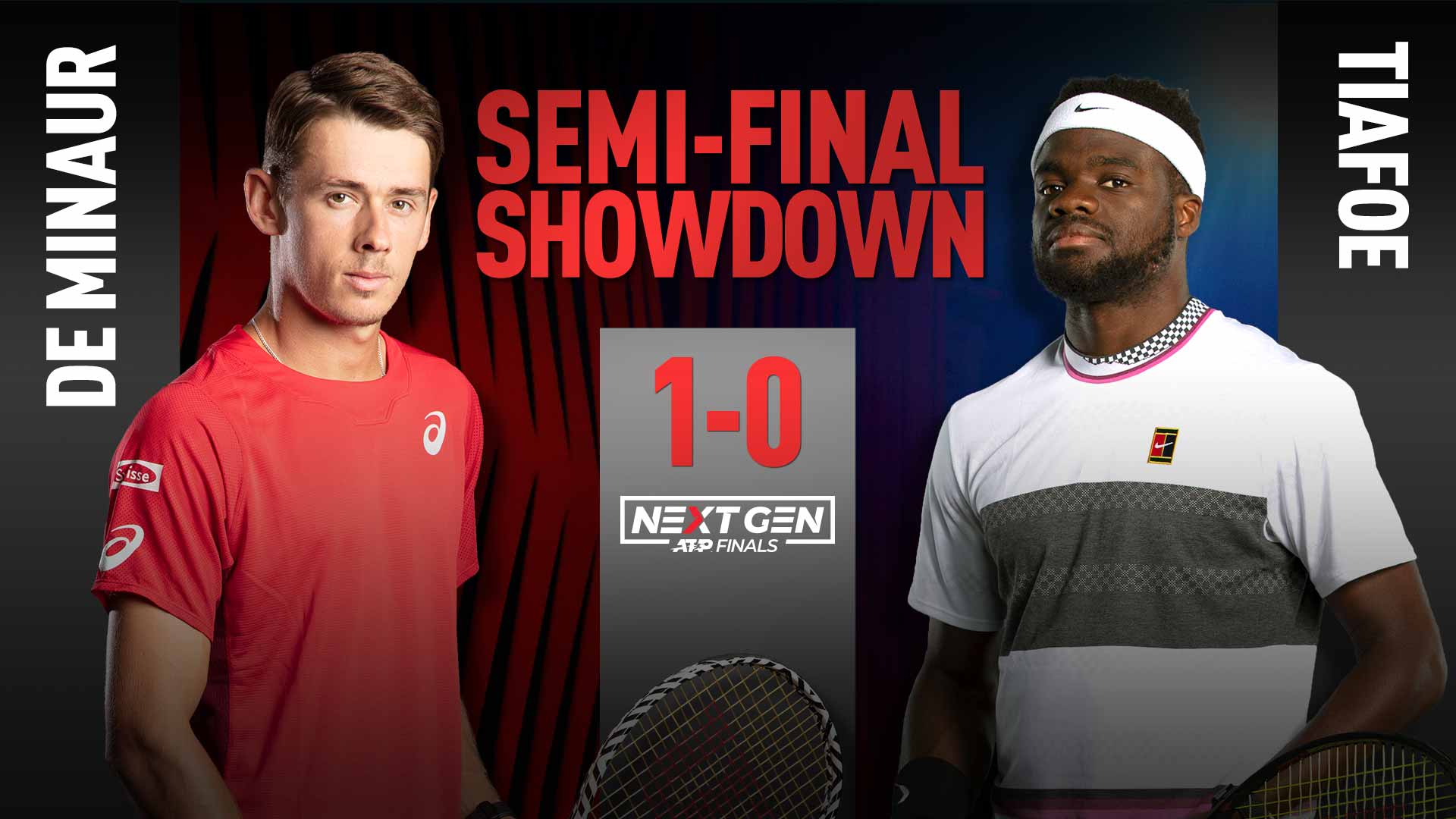 Frances Tiafoe would have preferred his Next Gen ATP Finals meeting with Alex de Minaur happen on Saturday, the day of the 2019 final. But the second-seeded American is still pleased to have a chance at the 2018 runner-up in Milan.
Tiafoe, who failed to make it out of the group stage last year, will try to reach his first Next Gen ATP Finals title match against De Minaur, the top seed who has yet to drop a match at the Allianz Cloud.
The Aussie finished group play unbeaten for the second consecutive year on Thursday, beating Casper Ruud of Norway 4-1, 4-0, 4-2 to make the semi-finals unscathed. The 20-year-old will look to improve to 2-0 against Tiafoe after beating him in four sets at the 2018 US Open.
"I get up for any sort of match any time I step out on court. These conditions make it a bit tougher in the sense that things can change directions really quickly, so I feel like you've got to be constantly focused. That's something that helps me, in a way, to stay in the moment," De Minaur said. "A lot of work has been done for me to achieve that, but it's a work in progress and I'm happy to be through to the semi-finals."
Tiafoe, who goes by the nickname "Big Foe", came up big during his win-or-go-home match against Mikael Ymer on Thursday, winning 4-2, 4-2, 4-2 against the sixth-seeded Swede.
"I just like being in Milan and playing in Milan. Fans are unbelievable here. They really get behind me. I feel like I play great tennis here. I'm just happy to be in the semis," Tiafoe said.
Read More: Tiafoe Talks Milan's 'Big Positives' For #NextGenATP Players
In Friday's second semi-final, Italian wild card Jannik Sinner, the eighth seed, will try to keep the home fans happy and reach the final. The 18-year-old suffered his first loss in Milan on Thursday against Frenchman Ugo Humbert 4-3(5), 3-4(3), 4-2, 4-2, but Sinner had already clinched his semi-final spot before their matchup.
He is the first Italian to make the semi-finals in the tournament's three-year history. Sinner will meet Serbian Miomir Kecmanovic, who secured his semi-final spot with a straight-sets win against Spain's Alejandro Davidovich Fokina on Thursday.
"I watched his matches," Kecmanovic said of Sinner. "It's definitely going to be tough playing against everybody here in the crowd, but I have been playing good. I'm feeling good."
SCHEDULE, FRIDAY 8 NOVEMBER 2019
ALLIANZ CLOUD COURT start 7:00 pm
[1] A. de Minaur (AUS) vs [2] F. Tiafoe (USA)
Not Before 9:00 pm
[8] [WC] J. Sinner (ITA) vs [5] M. Kecmanovic (SRB)
Tags:
Alex de Minaur

,

2019

,

miomir-kecmanovic-ki95

,

Miomir Kecmanovic KI95

,

jannik-sinner-s0AG

,

frances-tiafoe-td51

,

Frances Tiafoe TD51

,