03:06 PM GMT November 08, 2018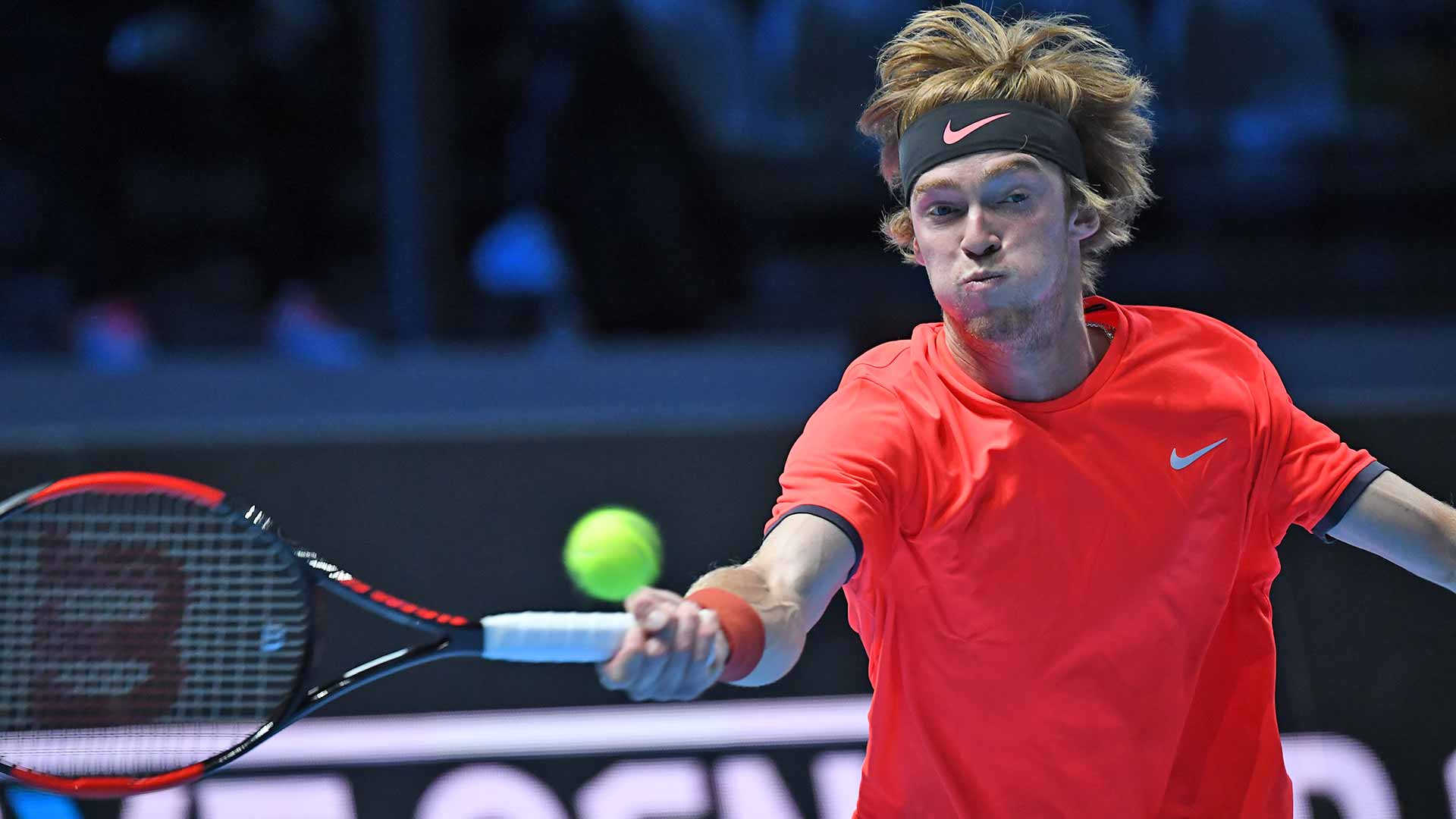 Andrey Rublev has showcased his talent at the Next Gen ATP Finals before, thrilling fans at the Fiera Milano one year ago with his run to the championship match. And on Thursday afternoon, he maintained his hopes of advancing to the semi-finals this time around, beating Italian wild card Liam Caruana 4-3(7), 4-1, 4-2.
"Today was a completely different performance. My attitude, I think, was the best attitude out of these three matches. I was focused. I was not complaining. I was trying to fight for every point because I know that every point for me costs a lot," Rublev said. "I was just trying to win each point, every point, doesn't matter the score. And I won in three sets, so now we'll see how it's going to happen later."
Coming out on top in straight sets may prove key for Rublev, as it forces Taylor Fritz to defeat second seed Alex de Minaur in three or four sets. If Fritz takes down the Aussie in five sets, Rublev will join De Minaur from Group B in the semi-finals.
It took Rublev four set points to close out the opener, as the inspired Italian tried to earn a victory for his home fans on Next Gen Arena. But the Russian hit a heavy backhand that Caruana could not handle to take the lead, and he would never look back.
"When the score started to be 6/6, 7/7, I feel that I just needed to make one ball inside and probably he's going to miss, and then this happened. And then I think he did two mistakes with the first shot, and I won the set," Rublev said. "I played aggressive but I was lucky and twice I broke him in the first game, second and third set."
Watch Live On Amazon Prime: United States | All Other Regions
After the first set, Rublev's coach, Fernando Vicente, utlised the prestigious tournament's headset innovation to tell his charge to simply reduce his errors, continue moving his feet and be wary of serving too much to Caruana's forehand, as the eighth seed was routinely blocking it back.
"Just we need to return more balls. That's all. You are playing good," Vicente said. "You stressed a little bit at the end of the set, but you are playing good. Trust in yourself."
Rublev did just that, losing just three service points in the second and third sets combined. The 2017 Umag champion won 75 per cent of second-serve return points in those sets, ultimately earning his second win of the week in one hour and two minutes.
Caruana did well to win three qualifying matches in three days last week to earn his spot in the Next Gen ATP Finals. And while he did not earn a victory, the Italian provided plenty of memories for the fans, and he will use the experience as he continues his ascent up the ATP Rankings.
Tags:
Andrey Rublev

,

Next Gen ATP Finals

,

2018

,