02:09 PM GMT October 24, 2019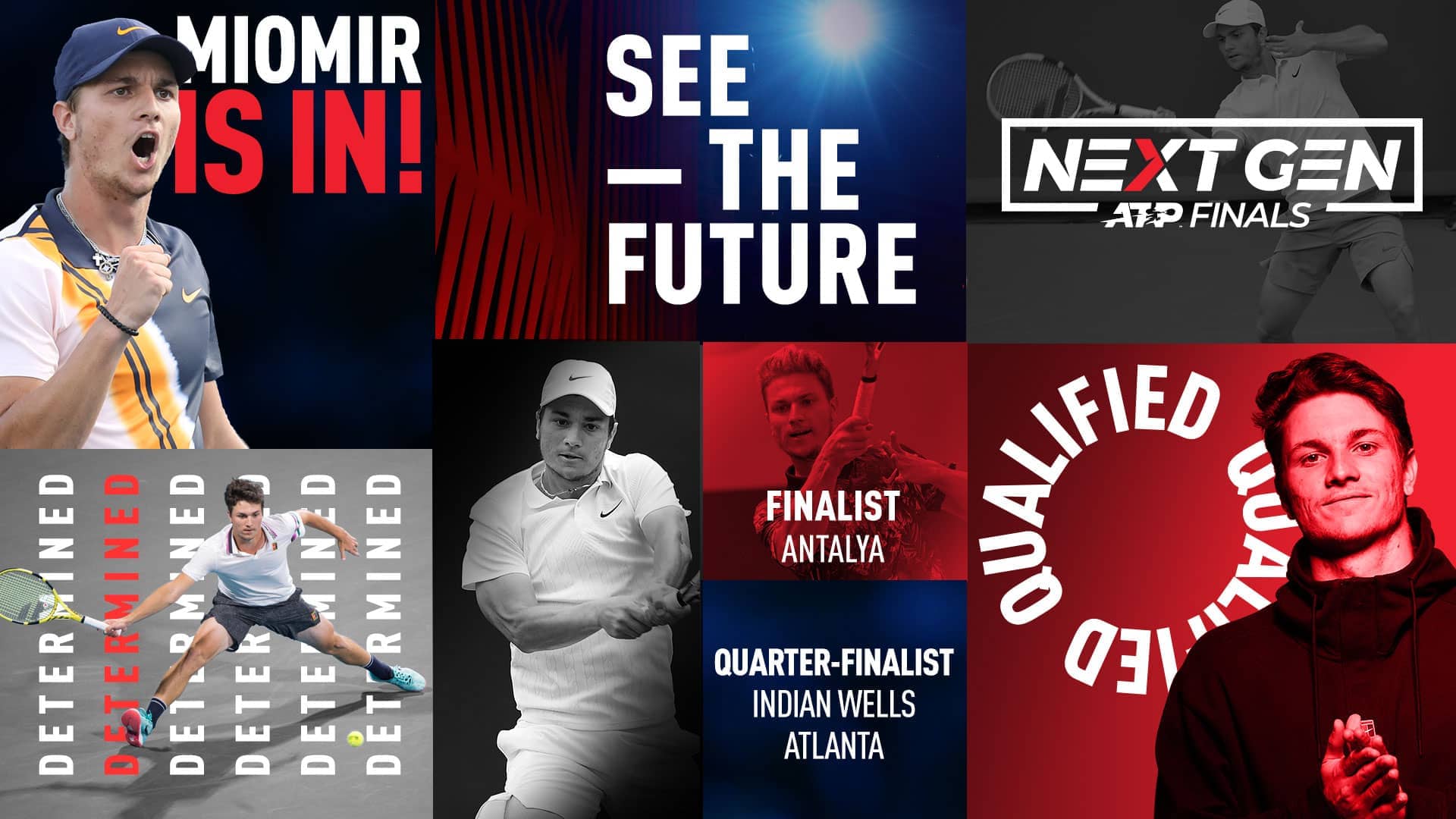 Miomir Kecmanovic will finish the best season of his young career at the Next Gen ATP Finals in Milan. The 20-year-old Serbian qualified for the 21-and-under event on Thursday following the withdrawal of Canadian Felix Auger-Aliassime (left ankle).
1. He knows Novak Djokovic well.
The two share a hometown of Belgrade and, if they're playing at the same tournament, often they'll practise together. When he was a kid, Kecmanovic looked up to Djokovic and Roger Federer. The 20-year-old has benefitted from Djokovic's advice.
"Obviously sometimes you don't feel like doing anything. You feel like not practising or maybe quitting. And to hear [Djokovic] saying, 'No, you have to keep going. Push through it,' give some encouraging advice like that, I think that helped me a lot," Kecmanovic said.
But, as Djokovic said in the below Miami video, he won't be giving Kecmanovic any of his Grand Slam trophies.
Watch: Kecmanovic Grills Federer, Djokovic & More
2. He's had to rewrite his goal for 2019.
Kecmanovic, who started the year at No. 131 in the ATP Rankings, had only one goal for the 2019 season: Finish in the Top 100. He crossed that off the list in March when he cracked the Top 100 at No. 95, and in September, Kecmanovic reached a career-high of No. 47.
The Serbian won't be able to improve his ATP Ranking in Milan as the tournament doesn't offer ATP Rankings points, but Kecmanovic will be eyeing the Top 30 in 2020.
More Milan Qualifications
Ruud Will Make Maiden Milan Showing
Tiafoe Is Coming Back To Milan
Shapovalov Books Return Trip
3. He enjoyed a breakout week in the desert.
Kecmanovic had just one tour-level win before the BNP Paribas Open in March, and he needed two people to withdraw for him to even play in the main draw of the season's first ATP Masters 1000 event.
Two people pulled out, though, and Kecmanovic became the first lucky loser to reach the Indian Wells quarter-finals since the Masters 1000 series began in 1990 (l. to Raonic). With such luck, Kecmanovic made plans to play the lottery. "I'm going to get a ticket because this is just nice."
Kecmanovic later reached his first ATP Tour final in Antalya before losing to Italy's Lorenzo Sonego. "It's an ATP [Tour event]. Everybody knows how to play tennis. Everybody's good," he said. "It's definitely exciting that I was able to come through... I hope that I can keep up playing the way I did and that's all I can ask of myself."
More On #NextGenATP Kecmanovic
Kecmanovic Upsets Zverev In Cincy For First Top 10 Win
The Secrets To Kecmanovic's 2019 Rise
Kecmanovic Feeling So Lucky He's Ready To Play Lottery

4. He moved away from his parents when he was 13.
Kecmanovic left Belgrade when he was 13 to train full-time at the IMG Academy in Florida.
"It was weird in the beginning, moving away from home, dropping everything, literally everything that I had back home, and leaving my parents behind," said Kecmanovic, who saw his parents – both doctors – about twice a year once he moved. "But I knew... that I had to do it. Because if I stayed at home, I wouldn't have the same practices or coaches or everything, in general.
"If I didn't go there, I don't think that I would be here today."
Kecmanovic certainly had no shortage of players to hit with once he moved to the U.S. The very first pro he shared a court with was 6'5" Max Mirnyi, who retired last year after a 22-year professional career that included 50 tour-level doubles titles. "I'm happy that I had him, somebody so experienced to have to talk to sometimes," Kecmanovic said.
5. He had the best off-season of his life last year.
Last off-season, Kecmanovic practised with Dominic Thiem, German Jan-Lennard Struff and others for three weeks at Tenerife, one of Spain's Canary Islands. The then-teenager was tested mentally and physically.
"It was tough at the beginning. I was struggling," Kecmanovic told ATPTour.com. "We had three weeks as we moved, hit, hit and hit more. Towards the end I was adjusted and it felt pretty good."
The experience changed his mindset and opened his eyes as to how hard some of the best players on Tour work.
"I really got to see how the top guys play and see their level. After qualifying for [the Australian Open] I think I just started to believe more that I could do it, that I belonged there," Kecmanovic said. "It started to go my way.
"[My belief] was definitely something that I was thinking about, but it's different when it actually happens and [you keep up with them], then you start to believe it when you see that it's happening. When it started, it was maybe one match, two matches. [Then] I saw that I could play at this level."
Tags:
miomir-kecmanovic-ki95

,

Miomir Kecmanovic KI95

,

2019

,