05:10 PM GMT January 19, 2019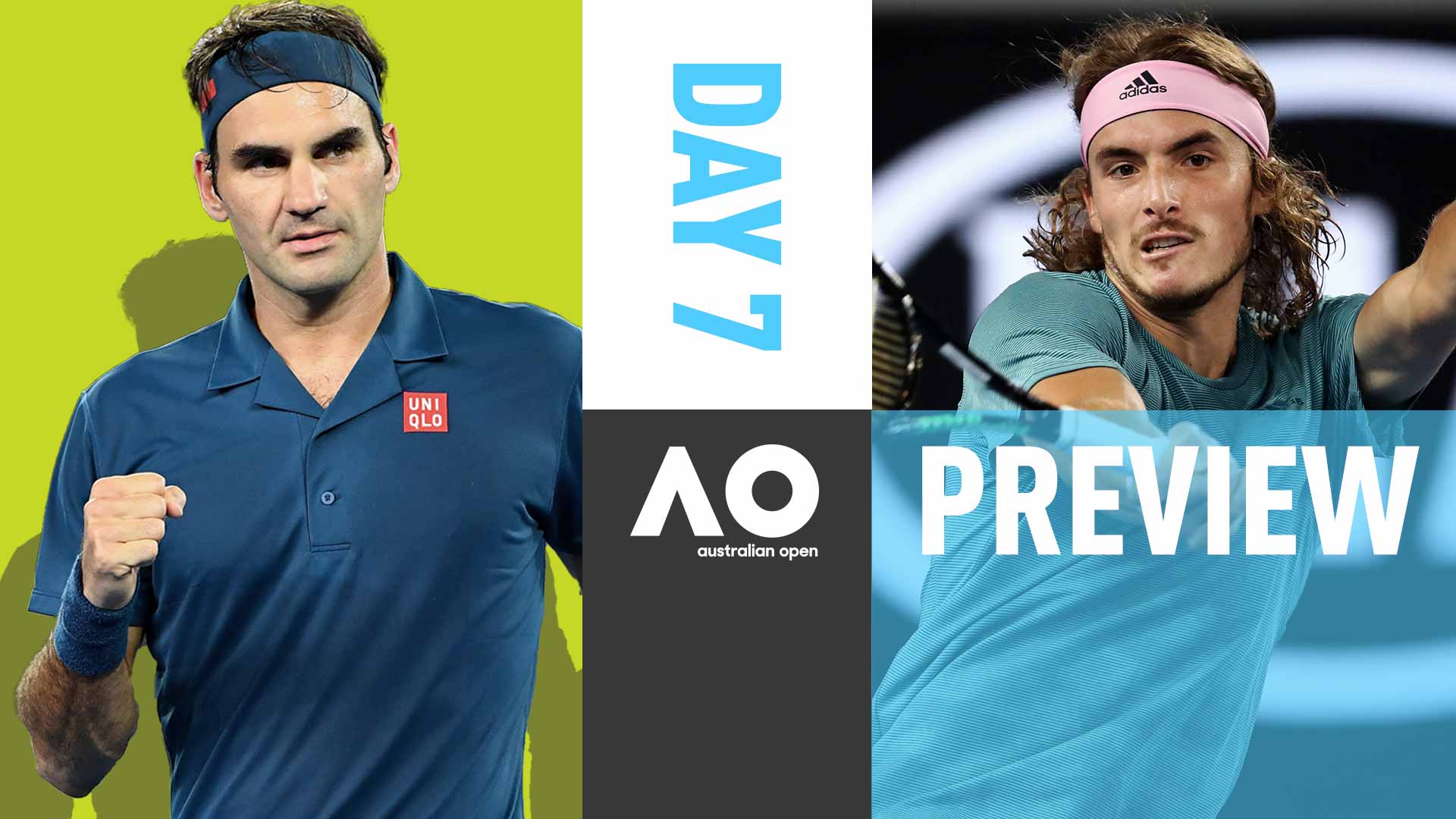 One day after 19-year-old Canadian Denis Shapovalov pushed World No. 1 Novak Djokovic to four sets in the third round of the Australian Open, another #NextGenATP star will get a chance to face a living legend in Melbourne. Six-time champion Roger Federer will play reigning Next Gen ATP Finals titlist Stefanos Tsitsipas on Sunday with a spot in the quarter-finals on the line.
"I'm happy for him. He's playing so well, and I'm looking forward to the match-up," Federer said. "I think it's going to be a good one. I like how he mixes up his game and also comes to the net. So will I. I think we will see some athletic attacking tennis being played."
While Tsitsipas owns a win against top-seeded Djokovic (2018 Toronto), the Greek has yet to face Federer. The 20-year-old remembers watching the Swiss play against the likes of Djokovic and Rafael Nadal when he was a kid. So Tsitsipas is very much looking forward to standing across the net from the third seed.
"It's insane I'm in this position where I can actually play him," Tsitsipas said. "It's really emotional.
"It's not easy to play these kind of players that you've been watching for so long and you finally get to play them. Mentally you have to be much stronger than any other match that you have faced that week."
Tsitsipas is the 14th seed, having climbed the ATP Rankings thanks to performances that include his run to last year's Rogers Cup final (l. to Nadal) and his maiden ATP Tour triumph in Stockholm. The Greek entered 2018 with just four tour-level match wins, but he proved what he's capable of by winning 46 matches last season alone.
"Having such a name like Federer on the other side, it's an extra, I would say, advantage for him, because he's done what he's done. But mentally, for players to beat him, they have to be ready and believe in themselves that... their game is great enough to beat such a player," Tsitsipas said. "I feel good. I can tell you that."
There is plenty on the line for Federer, as the 37-year-old could become the oldest man to reach the quarter-finals at the Australian Open since 43-year-old Ken Rosewall in December 1977. As the defending champion, he also has 2,000 ATP Ranking points to defend. So if Federer loses, he will only add 180 to his total when the new ATP Rankings are released on 28 January.
Another intriguing clash will be between No. 2 seed Nadal and former World No. 4 Tomas Berdych. While this will be their 24th FedEx ATP Head2Head meeting (Nadal leads 19-4), they have not met before the quarter-finals of any tournament — with the exception of two Nitto ATP Finals matches as well as a Davis Cup battle — since the 2006 Rogers Cup.
Berdych is coming off a back injury that kept him out for seven months. But the Czech has come out firing in 2019, reaching the final at the Qatar ExxonMobil Open and showing impressive form in Melbourne. The unseeded Berdych, currently No. 57 in the ATP Rankings, has defeated 2018 semi-finalist Kyle Edmund, Robin Haase and No. 18 seed Diego Schwartzman while dropping a total of one set (against Schwartzman).
Nadal defeated tough #NextGenATP Aussie Alex de Minaur with the loss of just seven games in the third round. With that said, the Spaniard is approaching the clash like he does every match.
"I go on court every day trying my best. I know I have to play aggressive. I know I have to play with the right determination, even if it's Alex, even if it's Tomas," Nadal said. "But every day's a test. Maybe every day [is] tougher. I have to be ready for it."
Last year's finalist, Marin Cilic, will try to keep his hopes of a second Grand Slam title alive against in-form Spaniard Roberto Bautista Agut. Bautista Agut has won all eight of his matches in 2019, with four of those victories coming against players who have reached the Top 5 of the ATP Rankings.
Cilic leads their FedEx ATP Head2Head series 4-1, but Bautista Agut's lone win came in the third round of the 2016 Australian Open in straight sets. Cilic has won all nine of the other sets they have played, with only one of those sets resulting in a score closer than 6-4.

The other fourth-round match on the bottom half of the draw pits 2017 Nitto ATP Finals winner Grigor Dimitrov against 2018 Next Gen ATP Finals qualifier Frances Tiafoe. The pair's only previous FedEx ATP Head2Head meeting came in Toronto last year, when Dimitrov needed a third-set tie-break to defeat the American.
This is Tiafoe's first trip to the fourth round of a major. This time last year, he had just nine tour-level wins. Now, Tiafoe is on the verge of cracking the Top 30 of the ATP Rankings.
"Everybody loves him. I think that already adds up. For sure, he's been playing really well, especially [at the] beginning of the year, [he's] been having good results. Already a few very good wins out here in Melbourne," Dimitrov said. "He's going to be dangerous to play. He's going to be excited. It's new ground for him. So yeah, I don't expect it to be an easy match at all."
Did You Know?
If Nadal defeats Berdych, the Czech will be the fourth opponent the left-hander has won 20 matches against. The other players are David Ferrer, Djokovic and Federer.
Tags:
Stefanos Tsitsipas

,

2019

,